CALENDAR
C'est Bon Masterclass
June 16 @ 6:00 pm

-

7:30 pm

$185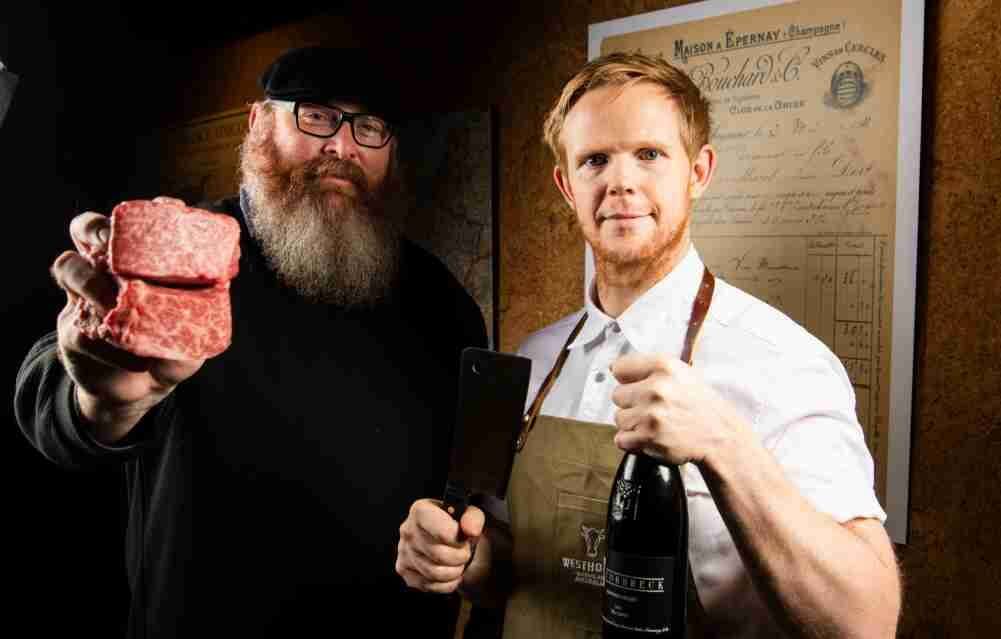 From the outside, you would be remiss to think C'est Bon is but a chic, French restaurant nestled unassumingly within the strip of Mater shopfronts and with its historic brick walls, it would be even more difficult to pinpoint the fascinating history that lies beneath its facade, were it not for the gorgeous heritage characteristics of the venue that remain.
Once upon a time, the space that is today occupied by one of Brisbane's most favoured eateries, was in fact, a Butchery, and one of the most popular at that. In the 80s, Heinz Meats was the place to acquire the most traditional of small goods and meats as well as the most sought after and exotic, from the best cuts of North African Game to a slab of marvellously marbled Queensland steak.
For one night only, on Thursday, 16th June, C'est Bon is turning back the hands of time and teaming up with the artists of Australian Wagyu and agriculture, Westholme Wagyu, to pay homage to the humble origins of C'est Bon's home, and the award-winning breed; Wagyu x Mitchell.
On the exclusive partnership, Chef and Owner Chef Andy Ashby says it's a chance to work with masters of meat and provide not just an incredible feed to foodie fanatics, but a priceless culinary education at the same time. "We're so proud to be able to team up with Westholme, one of Australia's largest Wagyu exporters. They are the absolute masters of Wagyu, and to be able to learn from their ways in raising and cutting the best meat in the world, is such a treat for our diners.
"Of course, as is the C'est Bon way, we can't have a night like this without the finest drops to accompany, so our friends at Torbreck Wines will be pulling out big bottles of their finest to beautifully accompany the evening. It will be a night to remember!"
This isn't the first time that Barossa based winemaker Torbreck Vintner has made an appearance at C'est Bon and this pairing of two reputable entities like Westholme Wagyu and Torbreck is a match made in culinary heaven.  Founded by David Powell in 1994, Torbreck's ongoing commitment to European Rhone varieties like Shiraz, Grenache, Mourvédre involves minimal intervention, creating wines of richness, structure and length that age gracefully.  It's no surprise they were named as one of the Top 100 Wine Estates in the world.
The Winter event will take place across multiple areas of C'est Bon in homage to the Butchery that once housed a multitude of meats.
Guests will first be greeted with a cocktail on arrival, heading up to Ooh La La Rooftop where they'll be served and a delectable Wagyu snack, accompanied by a quick C'est Bon history lesson under the stars.  Afterwards, diners will then move down to The Cellar where 'The Butcher', Adam Herbert, will host a Wagyu masterclass where he'll informatively showcase all of the various cuts.  For the final stop, guests will be seated in the Restaurant where Chef Ashby's Four Course Menu will highlight the various Wagyu cuts paired with contemporary French cooking techniques, with wines to match from Torbreck's magnificent Big Bottle range.
Readers also enjoyed our story about